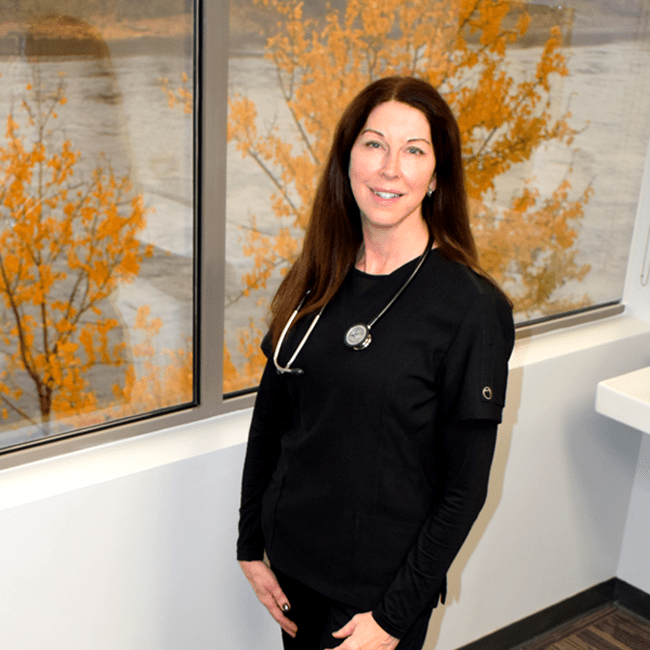 Dr. Stephanie Cameron
Dr. Stephanie Cameron completed her Bachelor of Science in Cellular, Microbial and Molecular Biology at The University of Calgary and her Doctor of Medicine from the University of British Columbia in Vancouver.  After completing her Family Practice Residency – Rural Stream through UBC in 1993, she returned to work in her hometown of Trail.  Dr. Cameron was one of the founders of Riverside Family Medicine Clinic in 1994. She moved her practice to Columbia Primary Care Clinic in July 2021.  In addition to family medicine, Dr. Cameron has an interest in primary care dermatology,  skin cancer diagnosis and treatment, as well as medical aesthetics procedures. When not working, she enjoys biking, stand up paddle boarding, skiing, travelling and spending time with family and friends.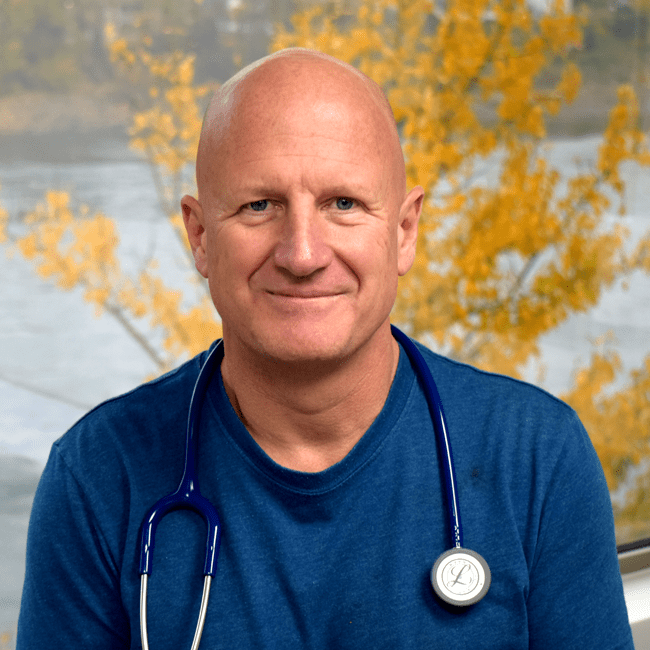 Dr. Trevor Aiken
Dr. Trevor Aiken trained in Medicine at the University of Edinburgh, Scotland followed by more than a decade of training in Internal and Respiratory Medicine. Ultimately he chose Family Medicine as a career and practised for several years in a rural setting in Northern England. Disenchanted with UK healthcare reforms he emigrated to Canada in 2009 and was lucky enough to have the opportunity to live and work in the Kootenays. He has worked in Trail's Riverside clinic from 2009 and subsequently moved to the Columbia clinic space with two of his existing colleagues in 2021. Moving to Canada and living and working in Trail has been an amazing experience. Dr Aiken's practise supports an interest in older, complex medicine in addition to working one day a week in the Trail Diabetes Education Centre. In addition Dr Aiken sits on the board of the KB Divisions of Family Practice and teaches a 3rd year medical student in his office most weeks. Outside of work, he enjoys spending time with his family, dogs and the great outdoors.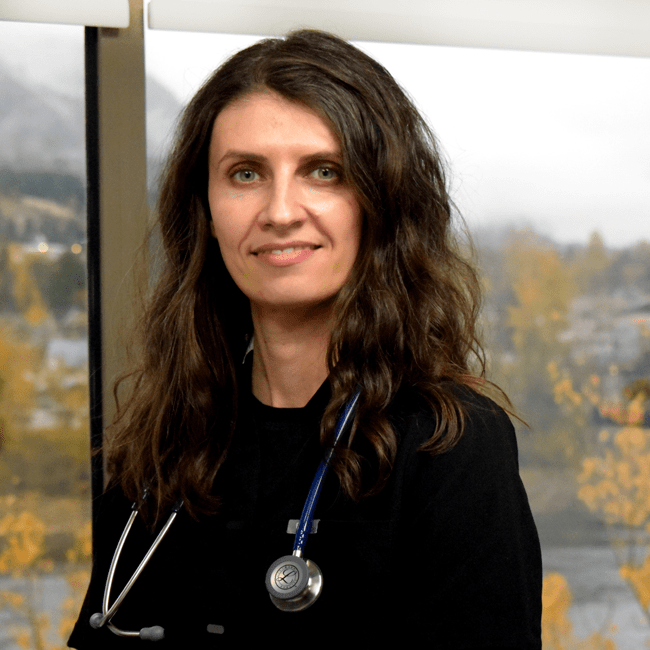 Dr. Sarah Tucker
Dr. Sarah Tucker grew up in Rossland. She acquired her Bachelor of Science in Biology at Simon Fraser University. She went on to obtain her Doctor of Medicine  at the University of British Columbia in Vancouver and then completed her Family Practice Residency at UBC in Chilliwack, after which, she returned to the Rossland-Trail area in 2010. Dr Tucker was part of the Riverside Family Medicine Clinic from 2011-2021. She moved her practice to the Columbia Primary Care Clinic in July 2021 and serves as medical director. She enjoys caring for the diverse needs of this amazing community.  She has a special interest in primary care dermatology, skin cancer diagnosis and treatment, as well as medical aesthetics procedures. She is a Clinical Instructor with the UBC Department of Family Practice and enjoys teaching medical students and residents. She also likes to ski and spend time with her family.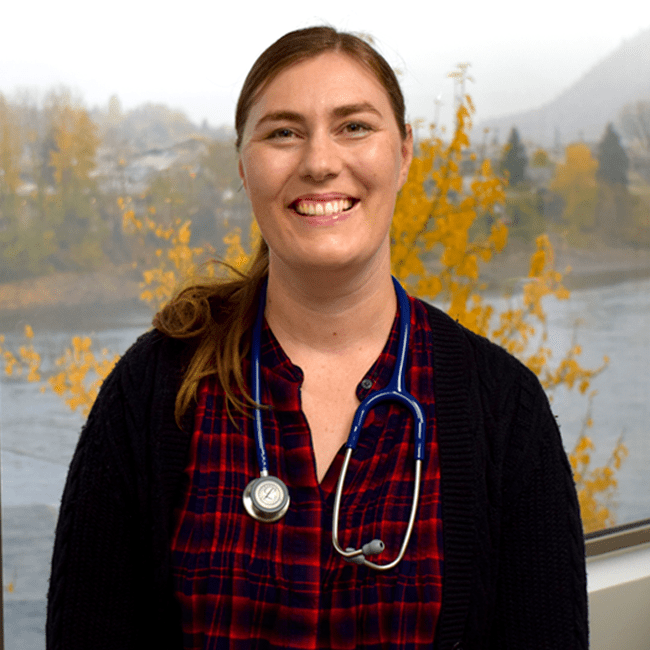 Dr. Liisa Stone
Dr. Liisa Stone is originally from New Zealand where she completed her undergraduate and medical degrees at Otago University in Dunedin, New Zealand. While at Otago she met and eventually married a Canadian and moved with him back to Vancouver. She then went on to complete her residency training in Family practice at St Paul's hospital in Vancouver. At the end of her training she moved to the Kootenays in 2017 and started full time practise at Columbia. She enjoys the variety of work and relationship building that family practise and the welcoming Trail community have provided. She also enjoys exploring the outdoors in all seasons and spending time with her young family.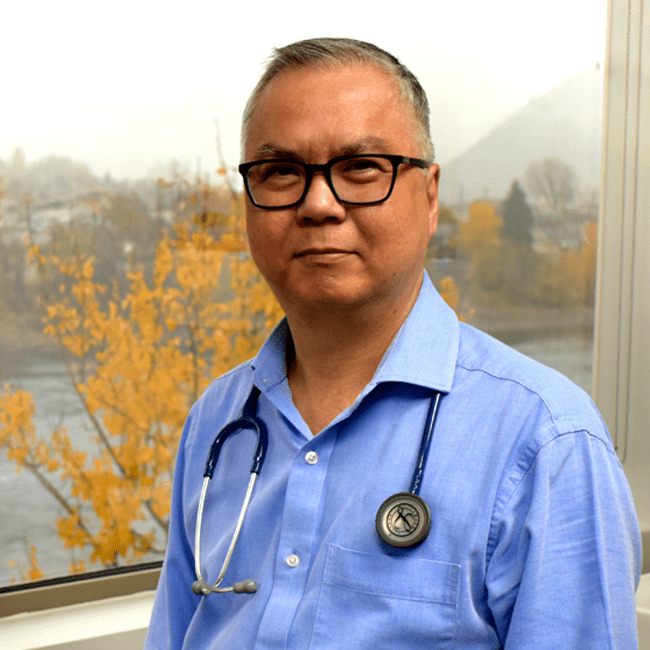 Dr. Joseph Yo
Dr. Joseph B. Yo  migrated to Canada in 2011. He graduated from the Manila Central University and had been practicing in different countries including Australia after his graduation. He joined the British Columbia 's Practice Readiness Assessment program in 2016. He was happy to be assigned in Trail as part of the program. He really enjoys  the lovely and friendly people here in Trail. He and his family like  the outdoor activities and the boundless beautiful scenery. He has a special interest in surgical procedures and in Geriatric care.
Dr. Fariba Maleki
Dr. Fariba Maleki worked as a general  practitioner for 10 years before moving to Canada. She recently completed her Family practice residency through UBC and is excited to start her practice in the beautiful Kootenays. Outside of work she enjoys outdoor activities, yoga and spending quality time with family.
Dr. Jesse Thompson
Dr. Jesse Thompson received his medical doctorate degree from the University of Ottawa. He then moved to Kelowna in 2016 to complete a rural medicine residency with a special focus on interventional pain management. Dr. Thompson joined the Columbia Primary Care Team in May 2022, also providing Emergency Medicine service at Kootenay Boundary Hospital. He enjoys caring for the entire family from newborns to seniors, and accepts consultations from the community for interventional pain management. He is a clinical instructor with UBC, teaching medical students and resident doctors on a regular basis. His wife and young children are excited to live in such an amazing corner of the world. You'll find them biking, skiing, in the martial arts studio and exploring, all year round.